Battalion begins anti-terrorist patrols as bid for 'super regiment' goes on
Glosters take on Afghan rebels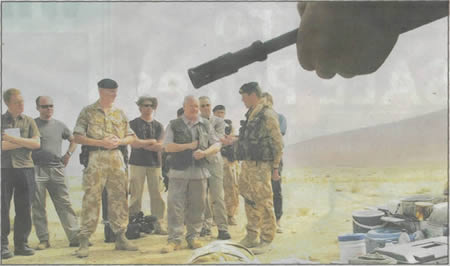 VIP visitor: Defence Secretary John Reid, centre, meets Glosters commander Captain Matt Vowles, of Barrow Gurney, right, near the city of Mazir-i-Sharif in northern Afghanistan
SOLDIERS of the Royal Glouces­tershire, Berkshire and Wiltshire Light Infantry have begun anti-terrorist patrols as part of their six-month operation in Afghanistan.The, battalion of 450 troops hasbeen divided in two to carry outpatrols in the capital Kabul and alsoin the northern territories of thewar-torn country near the city of Mazir-i-Sharif.
At the weekend, they felt tremors from the earthquake which has dev­astated parts of neighbouring Pak­istan. And only last week a suicide bomber struck an Afghan army base close to where the some of the sol­diers are camped in Kabul.
The mission in Afghanistan is the Glosters' last before it is fully merged into the Light Infantry.
Its role over the next six monthswill be to fight terrorists and help train a new Afghan national army.
Captain Matt Vowles, from Bar­row Gurney, who is one of the patrol commanders, said: "Following the recent elections, this has been a pretty tense tune in some of the towns and the Afghan people are pleased to see us and the extra se­curity we provide."
While it is already in the process of amalgamation, the RGBWLI will retain its name until next year, but is set to disappear soon afterwards.
Campaigners are hoping to keep the Glosters' traditions alive by per­suading Army bosses to retain their famous Back Badge.
A working party of senior officers in the Light Infantry is examining how the final uniform should look after the merger and whether the Back Badge should be retained.
The badge was awarded to the Glosters in 1801 after they fought "back-to-back" to defeat Napoleon's troops in the Battle of Alexandria.
An announcement on the future of the Back Badge was put on hold as the Government decides whether to merge the Glosters into a new "su­per regiment".
Although the regiment is already to become part of the Light Infantry, the new battalion could be merged with the Royal Green Jackets, which is based in Winchester. If the merger went ahead, it would mean that the RGBW would end up as part of a five-battalion "super regiment". A campaign to save the Back Badge was backed by the Evening Post.
Source: Bristol evening post, October 13, 2005,
by Marc Cooper
m.cooper@bepp. co. uk