Emotional farewell to Glorious Glosters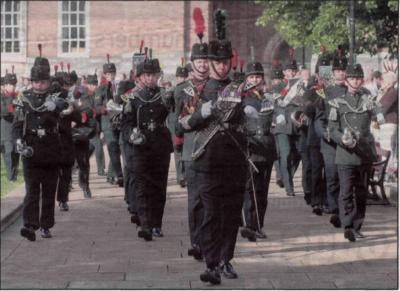 Regiment's goodbye: The Royal Gloucestershire, Berkshire and Wiltshire Regiment parade on College Green [Click for Large Picture]
CROWDS turned out in Bristol for an emotional farewell when the 1 st Battalion of the Royal Gloucestershire, Berkshire and Wiltshire Regiment paraded through the city for the last time.
The regiment, created 12 years ago when the Glorious Glosters merged with the Duke of Edinburgh's Royal Regiment, is soon to be amalgamated again.
But when the move takes place next year, the Gloucestershire name will be consigned to the regimental history books. The regiment will amalgamate with the Devon and Dorsets and the Royal Green Jackets to form the Rifles.
The parade on Saturday was the last chance for Glosters veterans to march with 1st Battalion members in the city from where many of its soldiers have been recruited.
They marched from College Green and through the Centre for the first of a series of farewell parades that will see the regiment visit 11 towns and cities in a week.
Brigadier Martin Vine, 53, of Saltford, who was the last commanding officer for the Glosters before its first merger in 1994, travelled back from Pakistan, where he is a defence adviser, for the parade. He said: "Forty years ago I first saw the Glosters marching down Park Street and I thought That's what I want to do'. A few years later I joined the regiment.
"It was a sad day to march through Bristol in 1994 and it's very sad to see the Gloucestershire name go now. But there has always been strong support from Bristol and we hope that will continue."
Bristol's Lord Mayor, Councillor Peter Abraham, said: "It was with
great sadness that I stood there to take the last salute. The people of Bristol, as well as the country, thank them for the great service they have given over the years. We will now look to see how we can continue to have an association with the Rifles."
The Royal Gloucestershire Regiment was formed in 1782 and by 1950 had earned more battle honours than any other in the British Army. Its troops' heroism
helped earn it the name the Glorious Glosters and it is the only regiment in the British Army given the right to wear a back, as well as a front, cap badge — a reminder of when the Gloucestershire Regiment fought back-to-back against Napoleon's army in 1801. The new regiment will still wear the back badge.
Source: Bristol Evening Post, October 9, 2006