Officers who died in the Boer War 1899-1902
extracted from The "Last Post" being a roll of all officers (Naval, Military or Colonial) who gave their lives for Their Queen, King and Country, in the South African War, 1899-1902. by Mildred G. Dooner. J. B. Hayward & Son. 1980.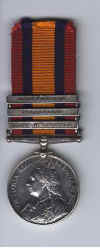 Queen's South Africa Medal (obv)
Clasps shown – Paardeberg, Driefontein, Relief of Kimberly
Holt.-Capt. Robert Hughtrede Edward Holt, M.R.C.S., L.R.C.P., L.S.A., died of wounds received in action at Groblers Kloof in the operations on the Tugela, Feb. 21st, 1900. He was the only son of Lieut.-Col. R. W. F. Holt, late R.M.L.I. On his mother's side his great-grandfather, Lieut.-Gen. Sir H. King, fought both in Holland and in the Peninsula with the 5th Fusiliers. Capt. Holt was born in July, 1866, and entered the Royal Army Medical Corps as a surg.-lieut. Jan., 1892, being promoted surg.-capt. 1895. He served in the operations on the North-West Frontier of India, 1897-98, with the Mohmand Field Force, also with the Tirah Expeditionary Force, and was awarded the medal with two clasps. He went to South Africa Nov., 1899, and first did duty in camp at Nottingham Road and Estcourt. Capt. Holt was afterwards with the 5th Division, and was present at the action of Spion Kop. just before being killed Feb. 21st, he had gone forward to assist some wounded men, and was kneeling down beside and attending to one when he was shot. Capt. Holt is buried close to where he fell under Fort Wyllie, and an obelisk marks the place where he lies with others of the Somersetshire Light Infantry. The Royal Army Medical Corps have also erected a memorial cross over his grave close to the obelisk. A tablet has been placed in St. Mary's Church, Alverstoke, in his memory. He was mentioned in despatches, London Gazette, Feb. 8th, 1901, for his services.
Plumbe. - Major John Hulke Plumbe, Royal Marine Light Infantry, was killed in action at Graspan, Nov. 25th, 1899. The third son of the late Dr. S. A. Plumbe, of Maidenhead, he was born in 1858, and educated at the Oxford Military College. He entered the Royal Marines in 1877, was promoted capt. 1880, and major 1885, and is stated to have been a highly qualified officer, being a specialist in gunnery, fortification, torpedoes, and other subjects. He served in the Royal Marine Batt. in Egypt in 1882, and was present at every action in which it was engaged from the occupation of Alexandria to the actions of Tel-el-Mahuta, Kassassin, Aug. 28th, Kassassin, Sept. 9th, and Tel-el-Kebir, where he was slightly wounded in the hand and hip. He received the medal with clasp and bronze star. In the battle of Graspan Major Plumbe wag in command of the Royal Marines belonging to the Naval Brigade. In this action their losses amounted to forty-three per cent., due to the 'I unflinching and self-sacrificing heroism of the troops that led the assault." Three officers and 72 men of the Royal Marines were killed or wounded out of a total of 5 officers and 190 men. In the Naval Brigade Major Plumbe, Commander Ethelston, Captain Senior, and Midshipman Huddart were killed, and almost all the petty and non-commissioned officers were struck down. just before he was killed Major Plumbe said, "Rush for the hill, men," and when mortally wounded his last words were, "Forward! never mind me." A pet dog he took into action with him watched by his body for six hours, until the arrival of the ambulance. Major Plumbe was at first buried on the battlefield, but on the morning of NOV. 26th his body was moved, and he now lies close to Enslin Station beside Commander Ethelston and Capt. Senior. Their graves are marked by a large cross. Major Plumbe's servant, Private Doran, died of his wounds. The names of Major Plumbe and his servant are inscribed on the monument erected in the Cambridge enclosure, St. James's Park, by the officers and men of the Royal Marine Artillery and Light Infantry, in memory of their comrades who fell in South Africa and China.
Robertson.- Capt. Claude William Robertson, Royal Marine Light Infantry, serving with the 1st Regt. Australian Bushmen, was killed in action at Selous River, July 22nd, 1900. The third son of Mrs. Robertson, of Meadrow House, Godalming, he was born in Sept., 1868. He was educated at Charterhouse, and entered the Royal Marines in Sept., 1889, being promoted lieut. July, 189o, and capt. Jan., 1898. He served as a lieut. in the Royal Marine battalion landed from the squadron on the West Coast of Africa to punish the King of Benin for the massacre of the Political Expedition in 1897, which ended with the capture of Benin City, Feb. 18th of the same year. For this service he was mentioned in despatches and received the medal with clasp. He afterwards served on the Australian Station, and on the outbreak of war, being at Sydney, volunteered for active service. Being accepted, he proceeded to South Africa in command of B Company of the Australian Bushmen under Col. Airey, and landed at Beira. He was then sent to Buluwayo and served with the force for the relief of Mafeking. He afterwards moved towards Rustenburg, and was killed near Magato Pass as stated. Capt. Robertson is buried at Rustenburg. His name is inscribed on the monument in the Cambridge enclosure, St. James's Park, erected by all ranks of the Royal Marine Artillery and Light Infantry to the memory of their comrades who fell in South Africa and China; also on the tablet in the War Memorial Cloister at Charterhouse.