The Highland Light Infantry Band - 1901 - at Aliwal North - South Africa. Sgt. Pike, leader of the band is seated centre front

This photograph was recoloured by courtesy of

ColourMe


Bringing your old Black & White photographs back to life for the family album and the future.

Find Out More

Original B&W

Recoloured
Quoted from the Highland Light Infantry Chronicle: (Thanks to Home HQ Royal Highland Fusiliers - Glasgow)
On 6th November 1901 there was a Shooting Match between the Sergeants at HQ and the Band, the latter winning by thirteen points. The Band team was L/Cpl's Miles and Lammerton, Bandsmen Mowatt, M'Bride, Kirkwood, Locke, Alexander, Bugler Lang and Jackson.
While in Dordrecht our band had been a great scource of pleasure to all the people there, playing twice weekly under the baton of Sergeant Pike, the playing has been excellent.
----------------------------------
Photo courtesy of Mrs Iris Williams, who has sent the original to this website. The picture comes with a letter written to the Leader of the Band with thanks for the performance, with a cheque for £5 and a further payment of £10 for the lads. The picture has now been sent to the Royal Highland Fusiliers Museum.
It would be good if we can trace the families of these men and especially the Pike family. Should you have any information please Email webmaster
---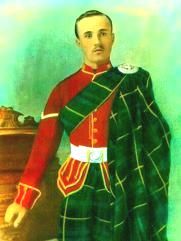 The picture above is Cpl. Edward George McBride in Dress Uniform Gordon Tartan. Date approx: 1924. (Copyright Patricia Pettigrove)
This soldier served in Malta and the Boer War
---
Photo courtesy of Steve Cooke from his grandfather's album (C.S.M. Cooke). Names are given below photo.
Warrant Officers and Sergeants. 1st Battalion, The Highland Light Infantry. Egypt, 1946.
---

Photo courtesy of Eric Worrall - it is of his father's company? Can anyone tell us where and when it might have been taken? Or the company/battalion etc.
---
Photo courtesy of Dave Field.
My Grandfather is in the centre photo taken sometime during the South African Campaign 1901-1902. If anybody has a copy of this photo with names of the others I would like to hear from them. He was in the H.L.I. and was Attested on the 14th Oct 1895 No 6052 he served for 12 years. He had 2 Good Conduct Badges. Served in Malta, Crete, Malta, Ceylon, South Africa & Egypt Campaigns, Occupation of Crete 1898 and the South African Campaign 1901/1902. Medals South Africa medal with Clasp, Cape Colony Clasp. Was discharged on the 13th Oct 1907 at Hamilton.
---
My father was awarded the MBE whilst serving with the 1st Battalion H.L.I. as a W.O. ll. In 1956 he was commissioned into 2nd/2nd Gurkha Rifles and posted to Malaya where the Battalion were fighting in the emergency against the communist terrorists. He retired with rank of Major in 1967, the year I was commissioned.
The first photo was in The Tatler and Bystander of November 2, 1949. It was taken at Fort George in Inverness-shire when HRH Princess Margaret visited The 1st Battalion H.L.I. of which she was Colonel-in-Chief. Major General Alexander Telfer-Smollett, Colonel of the Regiment is presenting my father, R.Q.M.S. Harry Dadswell to Princess Margaret. The second photo is of my father and several other members of the Sgts' Mess. It was also taken in 1949 at a Sgts' Mess Staff Parade. My father is second from right at the bottom.
Photo's courtesy of Ron Dadswell
---

Peter Kelly, 16th HLI Age 23 , Born Glasgow Scotland, Killed at the Battle of the Somme on July 1, 1916.
My Grandfather, Peter Kelly was in the 1/6th Highlander Light Infantry. He was from Glasgow, Scotland. He joined the army sometime in 1914 or 1915 and served until he was killed on July 1, 1916 at the battle of the Somme. I believe my Grandmother said he was killed in Flanders Field. Peter was one of those that no grave could be given since there was nothing left of him to bury, according to his friend Neil McDonald. Peter Kelly was survived by his wife Mary Catteral Kelly, and his young son Andrew Kelly. I am his granddaughter.
Photo courtesy of Carol Bell
---
Tim Lycett sends these photographs taken in 1914 at Aldershot before the battalion went to France. His g-grandfather served in the 2nd Battalion from 1902-1919.
A, B, C companies
D, E, F companies
G, H companies
Officers - Regimental Staff, Colours and Colour Sergeants
- Warrant Officers, Staff-Sergeants and Sergeants
Pipers, Drummers & Buglers - Band
---
Ernest Duncum - 8th Scottish Rifles
His regiment number was 39865. He was also in the 8th Scottish Rifles number 57202 His medical card reference WO 372/6.
I am still unclear as to why a Yorkshire lad ended up in a Scottish Regiment & not in the Yorks & Lancs but I guess it is just one of life's mysteries.
Pictures and info sent in by Gwen Boycott in memory of her Grandfather Ernest Duncum.
---
10835 Pte. William Gallacher
Noticed your site regarding the HLI and thought I'd inform you of my great grandfather who served with them. His name was 10835 Pte. William Gallacher from Donegal, brother of the famous Celtic football player Patsy. I framed his medals (well only the Victory medal was original and I sourced replicas of the others) for my Mums Xmas and they now have pride of place on her living room wall. I have attached pictures if you wish to use them on your website.
10835 Pte. William Gallacher of the 1/9th (Glasgow Highland) Battalion, landed in France on 30 Nov 1914, he was wounded but survived. Awarded British War Medal, Victory Medal and 1915 Star.