Diary of Private William James Cording.
Born in 1897 in Corfe near Taunton, his number was 241690 of the 1/5 Somerset Light Infantry. Generously submitted by his great-grandson James Cording.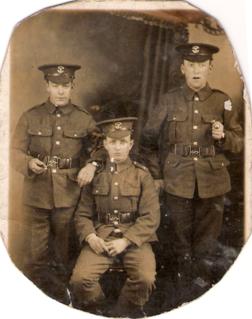 The voyage on the MS Berrima - Left Winton Bournemouth on the 24th March. Stopped at Camel Heads school.
1916
March 27th.
We embarked about 6am and we stopped in the dock all night.
HMT Berrima
March 28th.
We sailed out of dock in the morning and anchored in Plymouth Sound. The weather was not very grand the food is worse and we have to sleep in hammocks. There are a good many other ships in the sound we are all served out with life belts which we have to sleep on.
March 29th.
We 'ad a good nights sleep so I must be getting used to the hammocks. We get stew as usual for breakfast. The weather is much better today so we are able to sit on the deck and play cards and have a smoke, we are all longing to start on the voyage.
March 30th.
We wake up this morning to find out we 'ad not yet made a start as we thought we should go out in the night. The sea is lovely and calm. There are a lot of big fish jumping about in the water and a destroyer come along side our boat about 1.00 and she was worth looking at with her big guns and shells all ready for use. 1 forty after another came alongside of us so it looked like we'd soon be on the move. About 2.00 we started off and when we went to bed we were miles away from dear old blighty. A good many are beginning to get sea sick already.
March 31st.
We wake up this morning to find our escorts 'ad left us. We were out of the submarine danger that we were in the Bay of Biscay for it is far too rough for submarines here. The sun is beginning to get strong and we just have an order to be inoculated in the chest, which is not very nice. We passed a Gunboat during the day this is all worth mentioning for the day so we retired to our hammocks
April 1st.
We rise this morning to find the sun shining lovely. I get up and go down to the ships galley or cook house and gets a cup of tea and some scones which I enjoyed very much as the rest of the food was not worth eating. There is a big swell on this morning and its a job to stand upright. We passed the day as usual sitting about playing cards. The chaps seem to be getting over their seasickness now, in the afternoon the gun at the stern goes off twice. A good many faces turn pale and some says it's a submarine, however it turns out they were probably firing. The day finishes upon tonight.
April 2nd.
This is our first Sunday on board and it is spent very quiet and we are still out of sight of land. We 'ad a nice service in the morning, it is very hot again today one can do very little than be down on the deck. We pass several boats during the day.
April 3rd.
We woke early this morning. Land is in sight, it is the Straits of Gibraltar. Spain is on one side and Africa on the other. At 7.30 we reach the rock of Gibraltar and indeed it is a beautiful picture with high towering rocks and guns dotted everywhere. We only stopped here about an hour and now we are steaming away into the Mediterranean Sea. We do a little physical drill for half an hour. We pass lovely rocks on both sides and the buildings are white and they show up beautiful in the evening we see a search light along the coast.
April 4th.
We are still in view of land we are keeping near the African coast, this makes it much better to see land. All the while it is a beautiful day and we passed a town on the African coast. I think the name of it is Algeria and it showed up beautiful with the sun shinning on the white buildings. We have add some fun this afternoon boxing and tug of war. It is nice and calm today.
April 5th.
It is drizzling of rain, we are still in sight of land, we are passing a very dangerous spot
April 6th.
Today it is very rough, nearly everyone is seasick. The boat cannot make much headway today. The waves dash over the decks now and again. We cannot stand up right without catching hold of something. We see Malta in sight, it is too late and dark to put in dock and is too rough to anchor so she 'as to cruise around until morning, we are disappointed as we thought we were going to have a good nights sleep.
In Malta
April 7th.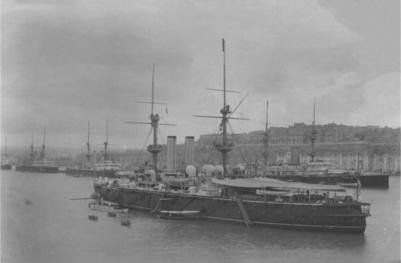 Malta Grand Harbour
We are making for the dock and it is getting much calmer. As we go inland we get in the dock and there is a big hospital boat in there. Everything is very interesting. Any amount of small boats is around us and the natives in them will pick up all the scraps of food they see floating about on the water. There are several French warships here and several gunboats, they were a fine sight lined up with their guns pointing out everywhere. It is very late and it is getting hotter everyday. The Maltese boys come around the boat and if you throw a coin into the water they dive in after it. In the evening we 'ad a meat drink and biscuit to finish up the day.
April 8th.
We are still at Malta and it is a lovely day and there is lovely to see all around. We are close to the French warships, it seems jolly hard to have to stay on the boat as we should like to land and have a look around. The Natives are all around us in their small boats selling cigarettes and silk and other things which you can get very cheap. They are busy unloading meat from the boat. The houses are built very close together and nearly all built of white stone. The Maltese are rather brown in colour and talk very quick. There is a film on in the other end of the boat and but we enjoyed ourselves looking at the pictures of the warship. After the pictures my mate and I goes down to the ships cook and gets some sandwiches and after went to bed.
April 9th.
The Maltese are back today; coal on one of the boats nearing and they are working very hard and singing some tune or other. We 'ad a service this morning and this is all that reminds you of Sunday.
We 'ad a lovely concert in the evening, we 'ad some Frenchies come aboard and sing. A good many English people came around in small boats to have a look at us. A good many Maltese can speak broken English especially if it's anything to do with money. The Admiral of the French fleet came on board today and had a look around. They are showing the pictures again on the French ships again tonight so we gets some more sandwiches and go to bed.
April 10th.
We are still at a standstill but not for much longer as we're sailing out again at 4pm. We are re ordered to wear our water bottles as well as our water belts just before 4pm. We are just all lined up on deck, now the anchors are drawn up and we slowly move out of the harbour. We are singing and cheering the whole way out. The sailors all are lined up on the French boats and the band is playing on the flagship. I think we 'ad a fine send off but the worst of it is we have no escorts with us now we are leaving Malta behind.
Back at Sea
April 11th
This morning there is no land to be seen and the sea is very calm, it is not quite so hot today as we are having the sea breeze.
We pass a good many boats during the day. Everything went on fine until after tea, we were all on deck as usual when a submarine was sighted. We could see in the distance and they say she attacked one boat and now she was after us. We were all ordered below as quickly as possible so not to show the sight of any troops on board. Now the boat puts on full speed, which was a good thing as we proved to be too fast for the submarine and also make a big boy course. It was a very mean sensation for a time and we 'ad a lot of ammunition on board. Tonight everyone 'as got to sleep on top deck with our life belts and water bottles on.
April 12th.
We rise this morning, land is in sight and it remains as all day. We pass in the morning islands off the south of Greece and we also passed by Crete. We for the second time get inoculated in the chest. It is dull and a good breeze is blowing but it got quite rough in the evening and the water began to wash over which made it rather uncomfortable.
April 13th.
After having an awful rough night we rise with the same weather, one does not feel like having any breakfast when so many are sick. Land is out of sight now. We pass very few boats during the night so we must move to our hammocks with the hope of reaching Port Said in the morning.
In Port Said
April 14th.
We sight land about 6am and we got into Port Said at 7.30. There are a good many boats in the harbour. There is a lot of troops camped around on the shore, it is very sandy and there are very few trees around. The Natives speak a good deal of the English language; they are rather a tall built race. They wear the same costumes as you see in the Bible of older times. They start unloading the rest of the cargo, it 'as been a very hot day and it is getting hotter than ever. It is our first day in Port Said and we are glad to leave off our lifebelts and water bottles.
April 15th.
We have an early breakfast and a good clean up for we are going ashore and have a bathe until 4.30pm. There are some decent buildings in the main streets some with very fine carvings. We reached the boat at 5.30pm after spending a most enjoyable day.
April 16th.
It is Sunday today and we have a very nice service. The Chaplain told us how thankful we ought to be for coming into safety, we 'ad no idea how many dangers we 'ad come through. After dinner we go down for another bathe. The trams here are pulled by pony and the carriage holds about a dozen people, which runs along the rails. There are a lot of troops harboured here. We got back to the boat at about 5.30.
April 17th.
Today I am not feeling very well so I went and see the Medic and he gave me some pills. Most of the troops went ashore, it was very hot all day and I was sweating very much, of course we shall get used to it in time. The Natives were coaling a boat next to us and it was amusing to watch them run up and down the steps, they were making an awful noise by their singing which kept us awake most of the night.
April 18th.
We go for a march through the town again, it is quite cool today - just right for marching. There are a good many English and French shops here. The flowers in some of the gardens look beautiful and some of the palm trees in. In the afternoon we go down to the seashore and have another sun bathe.
April 19th.
There is very little to write about today, no one is allowed ashore as we may be going away any time.
Port Suez
April 20th.
We did not get much sleep last night. We started at 4am, I was on guard all last night and again today. Now we are going through the Suez Canal which is very interesting, it is not wide enough for two boats to pass only at certain places. There are thousands of troops all along the banks and there were a lot of them in the canal. There has been a lot of fighting along the canal and you can see the barbed wire and trenches that 'ad been used and also a lot of graves. A Russian troop ship passed us in the afternoon and they played our national anthem as we passed. We got to Port Suez at 8pm and here we stayed for the night.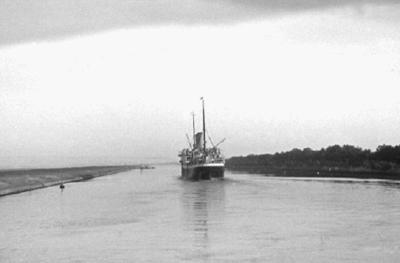 April 21st.
It is a lovely morning; there were a lot of boats around us. They moved our boat close to the wharf and then they put some aeroplanes aboard. It is Good Friday, but we did not have any buns.
Back at sea
April 22nd.
This morning at 7am we once more started on our journey, it is a beautiful morning and the sea is very calm. We enter the Suez Gulf, which is the beginning of the Red Sea, there is land on both sides, lovely mountains - they are very sandy looking. We pass very few boats during the day and in the evening we 'ad bit of a singsong.
April 23rd.
It is a glorious day and very hot now as we are near the equator. This morning we 'ad a service at nine 'o' clock and another at seven. Land is out of sight we see thousands of fish at the bow of our boat. We have the same amount of Easter cakes as we 'ad buns.
April 24th.
There was nothing of any interest today; we saw several sharks and flying fish.
April 25th.
The sea is fairly calm, we pass a group of islands called The Twelve Apostles, as there were twelve of them, later we went through two large rocks called The Gates of Hell. It seems a very funny place to take us.
April 26th.
It is a lovely morning and a lovely breeze is blowing, we have canvass sheets to put up to keep the sun off us. We pass a lot of islands this morning about twelve 'o' clock we anchor some way off Aden which is off the coast of Arabia and then several passengers got off on to the small boat, we sailed away again at two o'clock and land was soon out of sight. Aden is at the end of the Red Sea.
April 27th.
It is still sunny weather and the sea is quite calm. We are in the Indian Ocean.
April 28th.
We have not seen any land for three days now; we see swarms of fish of all kinds. It is very calm and there are no boats about.
April 29th.
Land is still out of sight, we have not passed any boats for three days, and the sea is calm.
April 30th.
Sunday, it is a lovely morning and we have a service on the deck.
Bombay
May 1st.
We wake up this morning expecting to get to Bombay, which we very soon reached; we anchored in the harbour. During the day we were busy putting our equipment together.
Troops unloading at Bombay
On board the train.
May 2nd.
We got up with the hope of disembarking, we left the ship at half past eight we got on the train at half past nine and now we are steaming our way across the country. There are twelve of us in the carriage and now we are going to try and get some sleep which I think will be a job as we are getting jerked about a lot.
May 3rd.
I woke up this morning after having a good nights sleep. We get our breakfast of bread and jam at nine 'o' clock and not very much of that. We see a lot of fruit trees on the way and animals and birds. We 'ad bully beef for our dinner and no bread with it. We got our tea at half past five which was a good one, we 'ad bread and cheese and jam and a banana. The heat is worse than ever today and it makes us keep drinking water, which in some places is not worth drinking.
May 4th.
It is still hot, we are longing to get our breakfast which we did not get until ten o'clock. We were all hoping to reach Meerut in the morning May 5th.
We wake this morning to find we are stopped at Delhi which is the capital of India, we stopped here for two hours and we were told to get ready for getting out at Meerut which we reached about eight o'clock. As soon as we got out we 'ad some tea and cakes which we enjoyed very much and then we marched to the Barracks where we 'ad a good feed of eggs and beef. We stopped here for three days and our company D and C were sent to Chakrata
Trooping the Colour at Chakrata
Marching
May 7th
We 'ad to go to a days train journey to Dara Dun and then we 'ad a four days march to Chakrata which was about sixty miles from Dara Dun which we reached on the
12th May
Very hungry and tired.
October 21st 1916 left Chakrata.
Arrived at Meerut October 24th 1916
1917
24th January Left for Pir Gummat Shah.
January 27th arrive Pir Gummat Shah.
Left for Dhang March 2nd
Left Dhang March 8th
March 26th left Pir Gummat Shah.
March 30th arrive at Poona.
Left Poona April 25th.
April 26th Embarked at Bombay.
May 6th Arrived at Aden.
May 11th disembarked Port Suez.
Cairo Melmei stopped until June 3rd 1917 and then proceeded to Arish, stopped until June 20th.
Proceeded to Rafa stopped until August 18th.
Proceeded to march Belah stopped until August 26th.
Then went to Dorset house arrived there same day.
In the trenches.
We went in the trenches Sheik Abbass ridge on the 2/9/17, after coming out on the next morning our company 'ad seventeen casualties, one killed and two died later on from their wounds. Stayed in the trenches about three weeks, came back for a rest then went in the line again.
In the Trenches
On the 6th of November Going a stint started on left, our batt came out from the lines again. On the 23rd after a rest we went to another position called Horse Shoe Ridge on the 26th of December 1917, 15 miles south east of Jaffa. We were relieved by the 2\4 Dorset flag on the 8th February 1918 after having a very wet and cold time and very later rations, as it was a great difficulty to bring them up as the mud was awful. We then came out back to Ludd for a rest.
The surrender of Jerusalem December 9th 1917.
We were at Ludd for about a month having a rest, road making in the day times. About the middle of March another advance was made but we were not in the line this time, we were busy road making for them to get the guns and rations up. The advance was about eight miles; it is very hilly country as we go advance. This advance lasted about two days and then our Batt relieved the 2\4 Devon regiment on the right of the village Bellut on the 18th March 1918.
April 9th.
We 'ad to make another advance early in the morning, we 'ad to pack our blankets up in bundles, it was three 'o' clock and it was very cold and dark. We 'ad a little to eat before we started but no tea as they would not make it as it was dark. Then we scrambled out in no mans land and we were lined up in sections. Our company D was the only one to advance, in our path. The other companies were on a ridge just behind us, we 'ad the order to advance and we got 40 yards from the village and soon after our artillery put about a dozen heavy shells into the village. After they finished we rushed for the village under a red Vary light which is a signal for artillery, a few machines open fire and soon after the enemies artillery open fire on us and they did put some shells over that day. We did not have much artillery, as they could not get it up our sections. There gunners were on the left we got down behind some stone, enough to cover our heads and we started firing at the enemy. Now and again Turkey would fire 'is machine gun at us and he was sniping at us all day long. On that day we 'ad about seventy casualties in our company. We were in this position until 25th April 1918 then we got relieved by the 1\4 DLIS. Our Colonel got the DSO by this stunt but I should like to know how he 'ad been given it. We then went back behind the line for two days.
On the 27th April 1918 we took over another position - the village of El Kafir, where we relieved an Indian regiment. We were there about five weeks, we were then relieved by the 1\4 DLIS and then we marched back to Rentis about nine miles behind the line. The next day our company 'ad to pack up and go to a second line position behind El Kafir for one night and came back to Rentis again feeling very tired and fed up. After having about three weeks at Rentis we were all fumigated while we were there. Then we took over another position in front of the village of Bellut where the enemy makes several raids on us while we were there. We relieved an Indian regiment. Here the 2\4 Dorsets were on our left and a Gurkha regiment on our right. In the village of Bafat we 'ad previously taken, we were here for a month. In my platoon one morning we 'ad two killed and seven wounded by shell fire, we all 'ad a shaking up that morning as we did not have no dug outs but we soon started to make some holes to get a little cover. After this position we marched back to Wadi Yerkha where there was plenty of water which we were glad to get for a wash and drink. Here the 2\4 Dorsets got broke up and a lot of them joined our battalion. We were here for a fortnight doing working parties, and then we went back to Rentis on the 10th August.
In the evening we marched to Beit Nabala, we were marching all night and we arrived there very tired. In four days we 'ad to go on parades and we went around Wilhelma on several route marches and we 'ad several glasses of wine there. On the 18th August there were some sports, camel racing and mule racing and horse racing. On the 21st we saw an enemy aeroplane brought down and one of ours came down in flames.
On Thursday the 22nd we moved out at eight 'o' clock for Rentis. We arrived at Rentis at twelve and 'ad tea and then we turn in bed. The next day we got ready to march to Tin Hat Hill where we went straight on Duty in the line, we stopped here about ten days and then we marched back to Lubin where we stopped about ten days. Then we went on to Beit Nabala, we stopped here about three or four days and we 'ad to give in our spare hat.
16\9\18.
We started to march to Mulabis where we stopped the rest of that night and all the next day in an orange grove and moved out to the line in the evening when it was dark as we were under observation all the way. Our company moved right in the line and a couple of platoons went on duty. The rest of the battalion was a little way behind a ridge. The next night some of us 'ad to fill in some trenches so that they could get the guns and march the troops over quietly. During the night a lot of troops went out in no mans land till it was time to advance. The Turk would open up his machine guns now and again.
The final days of the war.
19\9\18.
The next morning about four o'clock our guns open fire and they did not half not put some shells over and it look like hell over on Johnys trenches and behind his line a couple of our companies 'ad gone out. Just before 4 o'clock they kept up the bombardment about 40 minutes and at 6 o'clock our company 'ad to get ready to advance, but our Lewis guns were not brought up to us and we 'ad to run about and look for them and after a time we found them. The artillery was already moving up, Johnny Turk was sending over a few shells now and again but we soon 'ad him on the run and he could not touch us with his shells. We advance through a village called Misker and stopped just before getting to El Tirah and about 5 o'clock we marched back near Misker and turned down for the night. Three days after we 'ad to march to where we 'ad started to bury the dead and collect all stray bombs and other things. It was not a very nice job as the dead 'ad been lying there for four days and the stench was awful.
We stopped near misker until 25\9\18 then we went back near the village of Lraker Runm, we stopped there about six weeks doing parades and while we were there we heard joyful news that Turkey/Austria 'ad fallen, Germany 'ad given in and there was a lot of rejoicing sending up vary lights and other things. After we moved back to a little village called Akar near Ludd where we stopped until 6\1218 when we entrained for Kanlara. Arrival Kanlara Kels 6 or El Jeh Dessert (The Dessert of Sin).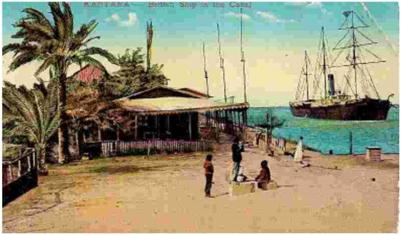 7\12\18.
Left Kels 6 and camped by the canal, left on the
16/3/19
for general escort to Beleha, got back to Kanlara again.
20\3\19.
Left Kanlara and proceeded to Belleis.
24\3\19
arrived at Belleis, Left
31\3\19.
Arrived at Cairo
31\3\19.
Got fitted out with drill clothing that night. The next day
1\4\19
we got on a paddleboat and proceeded down the River Nile, we got off at Wasta where the natives 'ad been causing a lot of trouble.
3\4\19
left Wasta again.
7\4\19.
Proceeded down Nile again where we camped.
12\4\19.
Raided several villages while we were there, left about
24\4\19
and proceeded to Minia by train, arrived there same day.
6\5\19.
Arrived at Cairo Polygon camped, left Polygon
20\5\19.
The voyage home.
20\5\19.
Arrived at transit camp near Suez, Left
23\5\19.
23\5\19.
Arrived Allain camp, left for Port Jewfik
20\6\19.
24\6\19.
Left Jewfik for Demob camp at Kanlara at 6am arrived Kanlara 11.30am.
25\6\19.
'Ad medical inspection and 'ad our kits made up.
26\6\19.
We 'ad our kit prepared and 'ad cereal later.
27\6\19.
We were picked for a draft and we also heard peace 'ad been signed. We left Kanlara Demob camp
1\7\19
and proceeded to Port Said, got on board The Allenga about 11am and started on the voyage about 4pm.
27\7\19.
The sea is fairly rough today and a good many are seasick.
3\7\19.
It is a lot calmer today.
6\7\19.
Arrived at Marseilles, disembarked about two o'clock and then proceeded to march to rest camp about a mile and a half away.
7\7\19.
Still at the rest camp, we are having a lot better rations than we 'ad in Egypt. In the afternoon we took a tram and went into Marseilles, which is a very nice town, but everything is very dear. Everything is green and beautiful about and plenty of fruit about which we 'ad a good feed oft, we 'ad plenty of pears which we picked from the trees.
8\7\19.
No orders to shift up to now.
9\7\19.
Left Marseilles at half past seven, then we were going through very hilly country and the scenery is beautiful. Everything is green and fresh and there is plenty of fruit about.
10\7\19.
We stopped and 'ad breakfast about seven at Le Jell passed a few of the following stations - Messye Cruos, Le Pousin, BAIX, Stopped at one 'o' clock for dinner Peyraud, Condriere, Tessin.
11\7\19.
Passed some of the following stations - Lacharite, Cosme. It is very dull and cold today.
12\7\19.
Arrived at Boulogne about two 'o' clock went to the rest camp. It is raining and it is very dark.
13\7\19.
We 'ad a medical inspection and our clothes fumigated and we went to another camp. We 'ad more rain again today and it is very cold.
14\7\19.
Still at Boulogne, it is a better day today.
15\7\19.
Paraded at half past ten to march oft to the docks. Embarked about half past twelve, arrived Dover quarter past two where there were a cup of tea waiting for us and cakes. Took a train at quarter past three arrived Fovent Salesbury about half past eleven where we 'ad some tea and something to eat and then we 'ad our papers finished oft. Left Fovent
16\7\19 at 6 'o' clock by train, arrived home at twelve.
The end