Click on any image to see a larger picture
Pioneer, 1812
Clour Sergeant 1860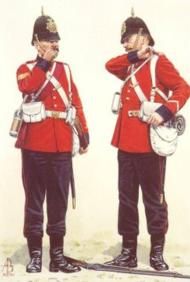 Sergeant and a Private of Prince Albert's Somerset Light Infantry - About 1880
Taken from a Print by Alix Baker.
Sergeant in The Somerset Light Infantry
The uniform is an early 20th century full dress uniform. The
jacket is scarlet with royal blue collar and cuffs and white
piping. The collar badges are brass, 1881-1902 pattern as are the GS buttons. The badges of rank etc are gold. The trousers are royal blue with a red stripe. The sash is knotted on the right side rather than left, this privilege is believed to have been awarded to commemerate the gallant conduct of the Sgt's when all the officers had become casualties - Burma 1825 - Afghanistan 1842/42
The medals he is wearing are we think Indian General Service, and an Army Long Service.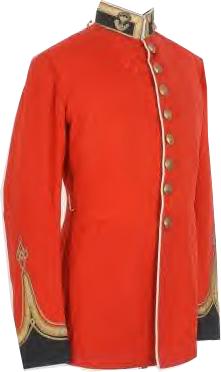 This is early 20th century Edwardian Somerset Light Infantry officer's tunic. Fitted with domed brass gilt buttons by Hawkes & Co London, white piping edges to scarlet superfine tunic, gold lace work to cuffs and collar.. High quality embroidered bullion collar dogs.
Gold Laced Cuff and Rear Pleat
Embroidered bullion collar dogs