Harry Patch
Wednesday, 22 December, 2004, 10:15 GMT
Cider joy for World War One vet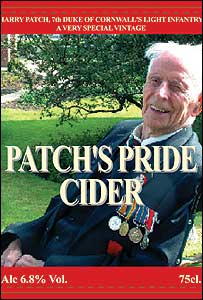 A cider has been produced to celebrate the life of 106-year-old Somerset war veteran Harry Patch.
A total of 106 bottles of Patch's Pride has been produced by the Gaymer Cider Company for Mr Patch and his friends.
Bottles will also be sent to the museum of Mr Patch's old regiment, the Duke of Cornwall's Light Infantry, in Bodmin.
A spokesman for the company said: "We were alerted to his story and the fact that he enjoyed cider. It was a fun project for the cider makers."
World War One veteran Mr Patch, who lives in Wells, helped with the development of the cider, tasting several versions before the final bottles rolled off the production line.
Patch's Pride is described by Shepton Mallet-based Gaymer as a premium quality sweet cider.
The spokesman said it was a special edition cider which would not go on sale.
"There are no plans to make it available," he said.
"But if people suddenly decide they are very interested, then we would look at it again.
"It is not designed as a commercial venture - it is a tribute to Harry."

[Source:.bbc.co.uk/history/war/]