Harry Patch
Mr Henry John Patch
Master of Arts
16 December 2005 - Orator: Mr Peter Durie
Madam Chancellor: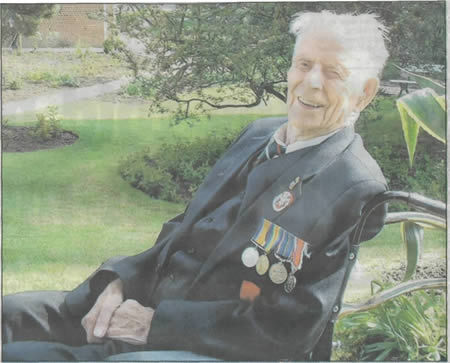 It is my privilege this afternoon to introduce Mr. Harry Patch, a native of the county of Somerset, a veteran of the Great War and a member of the workforce which constructed this building, the Wills Memorial Building, in the 1920s. He is 107 years old.
Harry Patch was born on 17th June, 1898, at Combe Down, near Bath. His father and grandfather were stonemasons; his great grandfather, in the early years of the 19th century, was a carpenter in Wedmore. According to Patch family tradition, he built his own coffin and used it as a wardrobe until the occasion for its proper use arose.
Young Harry left school in 1913, at the age of 15, and began an apprenticeship to a plumber. War came, and in 1917 he was conscripted. He completed his basic training and then joined the 7th Battalion, Duke of Cornwall's Light Infantry, at Rouen. By military trade he was a machine gunner, wearing the brass 'LG' badge - Lewis Gun - on his sleeve. He recalls that it was known as 'the suicide badge', because it was believed that the Germans shot Lewis Gunners whom they captured.
By 1917, when Harry Patch joined his regiment, many of the major battles of the Great War in which the British Army was engaged – the Marne, First and Second Ypres, Loos, the Somme, Arras – were over. One was yet to come. Its name has entered the British national consciousness as synonymous with endurance, sacrificial courage and slaughter – Passchendaele. Harry Patch was in the middle of it.
One night, 22nd September, 1917, after four months on the western front, as he and the four other members of his Lewis Gun team were coming out of the front-line trenches, on their way to the rear, a German shrapnel shell known as a whizz-bang burst in the air above them. Three of the party were killed, and Harry Patch suffered a serious shrapnel wound. Hospital for three months and convalescent camp followed. He did not return to France before the war ended. For him 22nd September is Remembrance Day, for his three friends in the Lewis Gun team who were killed on that day.
In 1918 he was demobbed. In the same year he married Ada Billington from Hadleigh, Shropshire. They were together for 58 years until her death in 1976. They had two sons. Both have predeceased him.
Returning to civilian life as a plumber after the war he spent a year and more as one of the craftsmen who worked on the construction of this building. He was at the topping-out ceremony and remembers placing the newly minted coins under the lead sheeting covering the trapdoor at the top of the tower. He attended the formal opening of the building by King George V and Queen Mary on 9th June, 1925.
He continued his working life as a plumber, with an interval during the Second World War as a fireman and as a plumber working for the Army, until retirement in 1961. He now lives in Wells.
Looking back to the trenches at Passchendaele, he remembers above all the roar of the guns and, everywhere, mud. There was death and suffering, and heroism. He also remembers fear. "When you went over the top you didn't know if the next shell or bullet would be yours. All for 1/6d (7½p) a day." During one attack he found in no man's land a badly-wounded British soldier who could not survive and who begged him to shoot him. As he prepared to do so the soldier died, exclaiming the single word 'Mother!' "A cry not of pain", says Harry Patch, "but of surprise and joy". This scene is scarcely imaginable to us 88 years later. Since that moment, death has held no fears for Harry.
Madam Chancellor, we are fortunate indeed to have this remarkable man among us. It is my privilege and honour to present to you Henry John Patch, as eminently worthy of the degree of Master of Arts, honoris causa.
Source: University of Bristol, Senate House,